Peter French CEO of SSR Personnel caught up with Jennifer Hulme Group HR Director for Marlowe Fire & Security following her presentation of the Inspiration in HR award sponsored by IFSEC and SSR Personnel by their Director Yasmeen Stratton at the Security, & Fire Excellence Award.
Jenn why is the Inspiration in HR Award so special to MF&S ?  Peter the award is of special significance to the HR function within Marlowe Fire and Security Group. We look after the 8 businesses across the group and to ensure we were able to do this to a good standard and help develop and grow the business from a people perspective, we launched our ACE people plan in 2020. This award gives us the recognition of the journey so far, reflecting on the great progress and developments we have undertaken which have been a success. The validation to the team that the excellence we aimed for at the start of the journey is being met. It has further encouraged us to keep improving and challenging ourselves to be even better for our employees.
Do you see this award as making a statement on the care that MF&S provides to both staff and clients? Yes, we want to be an employer of choice within the industry. Attracting great candidates and retaining those within the business already. Our employees deserve development and where relevant a clear career journey. We want our employees and future candidates to know that we are serious about the engagement, development and wellness of our people – we aren't where we want to be yet and no doubt there will be a bump or two in the road, but we will continue to work hard and strive to be better over the coming years. Our ambition in the HR team is great and we have fantastic support to deliver the ACE people plan by the executive board of the Group.   
The S&FEA really captured how motivated people who work in our sector are and how they party, did you enjoy the evening?   I had a fantastic night; it was humbling to be surrounded by such great talent from the industry. It was the first time I have attended the awards and I had a blast throughout; the food was great and the karaoke was a lot of fun to watch! A busy and bustling night – I even had some face glitter done to celebrate!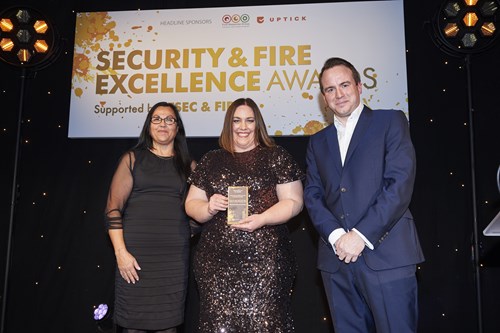 Picture L-R Yasmeen Stratton, Jennifer Hulme, Matt Forde