Europe is delivering innovative security solutions across many areas of public and private life. There has been an unprecedented period of job growth and unfilled vacancies after a period of accelerated growth following the pandemic. The background of the destruction of Ukraine, displacing millions of citizens, a cost-of-living crisis in part through energy inflation, may yet lead to civil unrest. Some economies have tipped into recession or heading for stagflation. Public finances will continue to overspend from prudent fiscal targets, yet we are not experiencing commercial demand reducing, significantly.
Most survey participants received a salary increase, enhanced bonuses and share awards this year as against 2021. Diversity Equality & Inclusion within a growing Environmental, Societal and Governance agenda offers opportunities for the security professional to be an integral part of any corporation.
Around Europe, the growth of security demonstrates a positive impact, how can we fully integrate with business.

Wage growth and opportunities across Europe
Among Eurozone's largest economies, wage growth was restrained averaging 2.1%, while Germany decreased -1.5% but wages rose fastest in France at +.4%, source: EUROSTAT.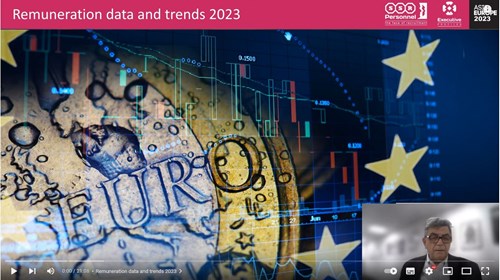 ​
SSR® Personnel and Executive Profiles present the results of their 2023 insights programme having surveyed security professionals on remuneration, benefits, and bonuses. They have also captured current corporate priorities, threats worrying senior management and how to get yourself noticed in the corporate Boardroom. Set your priorities for the rest of 2023 whilst extending your professional influence. Speaker: Peter French, MBE, CPP, Chief Executive of SSR Personnel Facilitator: Inge Huijbrechts, Global Senior Vice President Sustainability, Security and Corporate Communications, Radisson Hotel Group and ASIS Europe 2023 Conference Co-chair. SSR Personnel carry out bespoke bench-marking reports for clients, for more information on this please send an email to: info@ssr-personnel.com